HOME


FORUM


toa BLOG


CAMBODIA


Overland


FAQ


THAILAND


CHINA


VIETNAM


MYANMAR


INDONESIA


EAST TIMOR


MALAYSIA


SINGAPORE


BHUTAN


AFGHANISTAN


PAKISTAN


AUSTRALIA


PHOTOGRAPHY


READERS' SUBS


BUSINESS/JOBS


ADVERTISING


ABOUT ToA


LISTINGS


CONTACT
rooms & food
Siem Reap
click image for more information

No nonsense information on travel and living in Cambodia
Updated February 3, 2011
Cambodia Overland
The latest information on traveling overland between Cambodia and Thailand as well as hundreds of traveler reports. Also reports for travel between Cambodia and Vietnam and Cambodia and Laos.
September 8, 2006
The talesofasia guide to travel in Sihanoukville and the South Coast: Our guide to Sihanoukville and Kampot. Things to do, places to stay, problems to look out for and much much more. Written by Jack Stephens.
October 12 , 2006
KAMPOT section added
Updated October 6, 2004
The talesofasia guide to Phnom Penh Things to do, places to stay, where to eat and drink, and much much more. Written by resident Bronwyn Sloan.
The talesofasia guide to the provinces of Cambodia
Looking for a quick run-down of all the attractions in Cambodia grouped by province? Visit this guide with quick summaries and practical tips you won't find anywhere else. Updated February 2006
Guesthouses, restaurants, tours and more
Cambodia businesses to serve your every need.
The talesofasia guide to the toilets of Asia
Let's face it, if you're traveling for more than a couple of hours you're going to need to use a toilet. Where are the cleanest? What's the best place to run to in an emergency? Do I have to use my hand? What's the deal with squat toilets? What can I expect in Thailand? How about China? October 2003.
Updated May 2, 2004
Oddities
A collection of the weird, the funny, and well, in Cambodia, the normal.
Political and Social; features, editorials, and interviews:
Cambodia Update
The monthly Cambodia column that pre-dated the toa Blog. Full index from August 2001 to Novermber 2005 plus toa Blog December 2005 to the present.
Life on the Streets
S'kun is a Phnom Penh teenager who by choice lives on the streets of Phnom Penh. Read about her life and that of some of her friends. Lives of prostitution, inhalant abuse, violence, and domestic problems. Updated November 30, 2001
Stung Meanchey
Garbage and humanity together in a dioxin-contaminated landfill. Updated January 2, 2002
Cambodia Interviews
The latest interview is with Richard Boulter, Programme Manager in Cambodia for the HALO Trust, who discusses land mine clearance in Cambodia, the problems facing the local population, the realities of the situation in respect to tourism, and more.
Fires
Urban renewal, Cambodian style. A photo essay documenting the aftermath of the destruction from one large and suspicious slum fire that occurred in Phnom Penh on the afternoon of November 26, 2001. December 2001
Youthful Optimism
All is not gloom and doom as an idealistic Phnom Penh teenager helps preserve traditional culture while promoting modern ideas to help develop her nation. March 2000
Editorials on the Phnom Penh riots of January 29, 2003
Commentary can be found in the February and March 2003 updates, the February 2004 update. as well as these two pieces:
Mar 14 - an editorial on Cambodia's future
Mar 9 - editorial on the Cambodia/Thailand problem
August 21, 2004
Remembering Will Capel
Reflections by Karen Capel
Will's columns (includes toa Tribute)
Take a quiz!
The Cambodia Tourist Quiz
Traveled around Cambodia a bit? What did you really learn? Planning a trip soon? Find out if you've done enough research.
The Corruption Quiz
Corruption exists, but what are the limits? When do you pay? Where do you draw the line? Inside are seven scenarios to think about.
July 11, 2003
Senator Mitch does it again
US (United States of Cambodia?) Senator Mitch McConnell: Proponent of democracy or vote buyer?
------------------------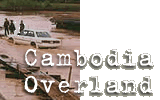 The road is finished!!!!!!!!!!!!!!!!!!!!!!!!!!!!!!!!!!!! The Overland section has all the latest information on this infamous road and the infamous journey as well as information on other border crossings. Updated May 11, 2010. Travelers' Reports updated February 3, 2011.
| | |
| --- | --- |
| Like what we're doing here? | |
"A fun, fast-growing website of tips and cautionary stories compiled by an old Cambodia hand." - Time Magazine (Asia), May 19, 2003.

Guesthouse - Siem Reap
click image for more information
Phnom Penh Perspective
October 12, 2006
Sage and Spirit. By Bronwyn Sloan
Travel stories:
Ratanakiri
A shy remote province remains reticent to the visitor. Comprehensive travelogues and practical information. Updated February 2002
Anlong Veng
Normalcy returns to the former Khmer Rouge stronghold. July 2000, most recent update January 2005
Cardamom Mountains
Exploring nature by destroying it. January 2002 (photos added April 2003)
Preah Vihear
A Cambodia treasure reopens to the world, sort of. January 2003
Koh Ker
Visiting Cambodia's 10th century capital. January 2003
Motorbiking
A story of misadventure across northwest Cambodia. April 2001
Battambang
Come for the statues and stay for the... umm... er... statues. July 2000
Motodop Commissions
It's no wonder your motodop is so helpful
A Temple of Clay
An alchemist monk builds a temple of clay and hopes to turn wood into gold. But what can he do with garbage?
Wat Nokor
Kompong Cham's 11th century temple gives up its legend.
Henri Mouhot Reenactment?
Temple exploration in the new millenium.
Small Tales
A pair of very short stories.
Fiction
A Bone To A Swimming Hole (a short story).
Stories by Antonio Graceffo
Struggling with the Khmer Language (Revisited) - Part 1 (January 16, 2009) by Antonio Graceffo
Buddhism and the Party Line in Cambodia (June 18, 2008)
Cambodian Government Says No to Khmer Rouge Movie (June 17, 2008)
Australian Khmer Film Struggles to Be Shown (May 16, 2008)
Bradal Serey, Putting a Modern Spin on an Ancient Art (October 1, 2007)
The Kingdom of Champa (October 1, 2007)
Cambodian Bokator Elbow Strikes (July 1, 2007)
Trekking with the Rangers of Bokor (September 8, 2006)
On Learning the Awful Khmer Language (February 12, 2006)
The Diversity of Cham Muslims (November 22, 2005)
Paddling on the Tonle Sap Lake (November 21, 2005)
Bokator Khmer (October 21, 2005)
Praying for a Cure (October 21, 2005)
Angkor Wat by Bicycle (October 8, 2005)
The Road to Siem Reap (October 8, 2005)
Adventure Khmer: Prelude to a Journey of Discovery (October 2, 2005)
Before Angkor (September 18, 2005)
Micro Credit (January 16, 2005)
Pugilism and Poultry (December 31, 2004)
The Coronation of a Cambodian King (October 31, 2004)
Feeding the Ancestors: The Pchum Ben Festival (October 31, 2004)
Cham Muslims: A look at Cambodia's Muslim minority (October 31, 2004)
Khmer and Twenty-something (July 24, 2004)
The People of Mekong Island (July 23, 2004)
Khmer Martial Arts: The Current Situation of Cambodia's Ancient Fighting Arts (July 5, 2004)
Rays of Hope on Dark Streets in Phnom Penh (June 23, 2004)
The Children of the Garbage Fields in Phnom Penh(June 16, 2004)
Cambodian Director Preserving Khmer Culture through Martial Arts Movies (May 29, 2004)
Other Readers' Submissions
Trip Report: Moto to Preah Khan (Preah Vihear province) (February 10, 2008) by Marvin
Driving in Cambodia (March 3, 2007) by Butch
Breakfast in Phnom Penh (February 22, 2007) by Brandon Follett and Amy Johnson
Savong's School (November 10, 2006) by Duncan Stuart
Delightful Cambodians - Srei Tooj (November 10, 2006) by Hans Meier
Delightful Phnom Penh - Meet the People (July 16, 2006)) by Hans Meier
Angkor Wat and a Few Hundred Children (July 2, 2006)) by Ken Stimson
A True World only when everyone is "Economic" (April 23, 2006)) by Lay Vicheka
Why France Deposited Protectorate in Cambodia? (April 23, 2006)) by Lay Vicheka
King's Island (February 12, 2006) by Tim Patterson
A Night at the Kickboxing (February 12, 2006) by Philip Coggan
Quick Report: Stung Treng to Siem Reap via Tbeng Meanchey (January 21, 2006) by David Shamash
Cambodian Song is Contributing to Discrimination (January 21, 2006) by Lay Vicheka
Cambodia's Heroes Should Be Revoked (January 21, 2006) by Lay Vicheka
Cambodian Women and Barriers to Social Participation (November 21, 2005) by Lay Vicheka
Cambodia's Image from the New Eyes (November 21, 2005) by Lay Vicheka
Free-Market Economy and Free-Market University (November 21, 2005) by Lay Vicheka
Principles of Citizenship (November 21, 2005) by Lay Vicheka
Making Your Entertainment More Rational and Less Selfish (October 21, 2005) by Lay Vicheka
Chiang Mai to O'Smach and through to Koh Kong Sept 1-18 2005 (October 9, 2005) by Chris Simons
Golden Banana: Cambodia's Fruit Ensign (September 18, 2005) by Lay Vicheka
Knowledge Dissemination: A Never Immortal Path (August 27, 2005) by Lay Vicheka
The Role of Cambodian Law; My Perspectives (August 8, 2005) by Lay Vicheka
One Point for Cambodia's Transparency-Betterment (July 27, 2005) by Lay Vicheka
Cambodia's Best-known Literature/Culture Hero (July 23, 2005) by Lay Vicheka
Current Cambodia's Prevalent Diarrheas and My Simplified Resolutions (June 30, 2005) by Lay Vicheka
Pol Pot's Perspective on Chauvinism (June 7, 2005) by Lay Vicheka
Democratic Kampuchea: An irresponsible government (May 15, 2005) by Lay Vicheka
Cambodia, a new battlefield (May 4, 2005) by Ronnie Yimsut
Sex, drugs, guns and temples: A tour of Cambodia (April 27, 2005)by Lawrence Sheed
The four basic obligations of the government (April 22, 2005) by Lay Vicheka
Choeung Ek sale is simply and plainly an insult to all Khmer (April 18, 2005) by Ronnie Yimsut
The Khmer Rouge Tribunal (April 18, 2005) by Ronnie Yimsut
Cambodian Resort: "Virtuous Woman's Breast" Mountain (April 12, 2005) by Lay Vicheka
Tibula Fibula Cambodian Style (April 12, 2005)
One of the answers to why Cambodia has sluggish development (March 25, 2005) by Lay Vicheka
A glimpse into one unciviled action (March 13, 2005) by Lay Vicheka
A glimpse into Cambodian New Year festival March 7, 2005) by Lay Vicheka
A look at how Cambodian people resolve and prevent conflict through cultural values February 28, 2005 by Lay Vicheka
Alternatives(February 18, 2005) by Pork Out in Singapore
Overseas Khmer Perspectives (January 16, 2005) by Ronnie Yimsut
Stung Treng to 4000 Islands to Vietnam - a travel report(October 31, 2004)
In the Line of Fire (September 24, 2004)
The Battambang to Phnom Penh train (July 5, 2004)
Cambodia Reloaded? (March 29, 2004)
My Rant (March 7, 2004) by Robert of California
Trip report: Pattaya/Koh Kong/Sihanoukville/Phnom Penh: December 2003 (February 12, 2004)
Vietnamese Consulate in Sihanoukville (January 28, 2004)
Trip Report, Nov - Dec 2003 (December 26, 2003) by Ciaran Tierney
A Journey Through the Heart of Cambodia (1999) (December 13, 2003) by David Metraux
Cambodia Opinions and Advice pt. 2 (December 12, 2003) by Charlie Smith
Three days in Kaam Samnor (December 9, 2003) by Dan from London
Monivong Blvd: A poem (December 9, 2003) by Santel
Cambodia Opinions and Advice (November 15, 2003) by Charlie Smith
Observing the Cambodia elections (July 29, 2003) by Will Capel
Bitter Sweet: A Memoir of Travel (April 17, 2003) by Cheryn Flanagan
The Future of Poipet (April 7, 2003)
Have something to say? A story to tell? A grievance to vent? Let's face it, readers to this site get one view point and one view point only. Mine. While readers have been most generous with overland travel reports, why stop there? Travel, culture, politics, social issues! Speak your mind to a wide audience! See it here for the world to read! And it doesn't have to be Cambodia, this is talesofasia! e-mail me.
------------------------
Cambodia Links
Not the most comprehensive listing around, but if it's here, then I probably think there's something good about it. Updated September 21, 2005
------------------------